Fairfield Halls, that's a wrap
This month we completed a substantial banquet and commercial furniture installation at Fairfield Halls in Croydon, Greater London.
Following a multi-million-pound redevelopment Fairfield Halls will be at the heart of Croydon's new cultural and education quarter. The location, which originally opened in 1962, has hosted all the greats from The Beatles, The Who, Elton John, Queen and David Bowie to the sublime Morecambe and Wise. We were able to source and install a large proportion of the furniture in time for Dame Judi Dench's grand opening of this stunning Croydon arts venue earlier this month. Behind the scenes are a passionate and busy team that orchestrates the above, so we were only too willing to match the team with suitable commercial furniture.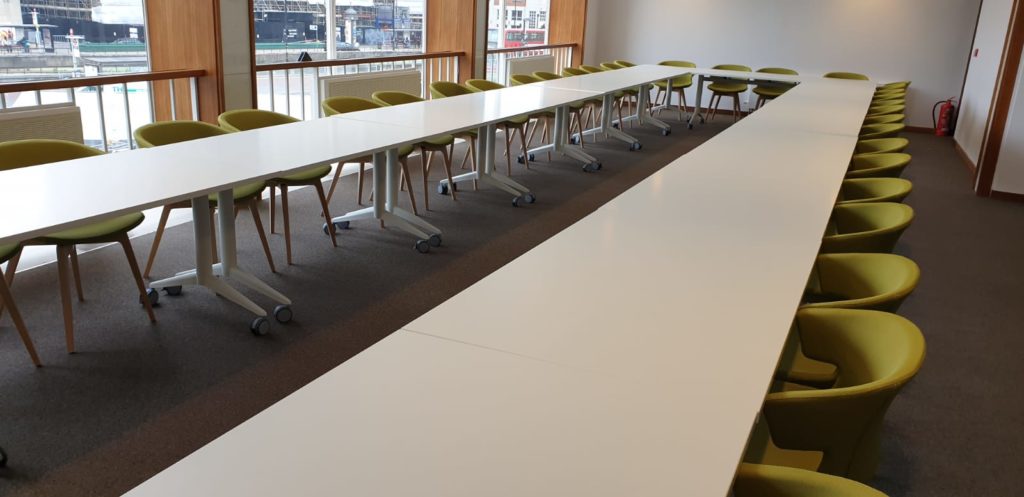 Our involvement in this project started back in August 2018 where created space plan layouts of the office furniture for Neil Chandler, Venue and Artistic Director for Fairfield. The orders for production were placed towards the beginning of the year and final delivery and installations were completed during September 2019 in time for the official opening, mentioned above.
The sheer scale of the building presented some initial difficulties in surveying all the numerous offices dotted throughout the complex. Plenty of steel toecap boots were worn out walking the building during the regular visits to the project! The installation of the furniture was obviously also a challenge for the same reason, but our experienced fitting teams worked hard to complete the works in time.
If you have an office furniture project on the horizon and require support with space planning and commercial furniture provision – we'd be only too happy to help. Please do contact either Richard or Andy who can assist with your enquiry