Buyer's Guide to Glass Office Furniture
Here at Solutions 4 Office, we've been fitting out commercial office spaces and executive home offices for over twenty years. Whilst glass office furniture is popular, it's a premium cost, so we've curated this buyer's guide to help you decide on the appropriate glass office desk or glass meeting table to suit your needs.
Glass desks are perfect if you…
want a clean design that doesn't go out of fashion;
enjoy a distinctive unique look;
wish to modernise your office;
are looking for a luxurious executive desk
Firstly, there are 2 options to consider:
an all-glass desk;
a glass top desk that is supported on a choice of non-glass leg frames
The latter is the more popular but the former can give a truly unique style.
When looking to buy a glass desk, there are three key things to consider – size, shape and budget.
1.What size of glass desk do you need?
Think about the space that you have to accommodate the desk. Glass is a fantastic, stunning material that is best shown in spacious environments. It is often used in executive office furniture as it creates a status feature.
Do you have a sufficiently spacious room to deploy the size that you need?
The size is largely driven by this space and what you need to accommodate on the desk itself. A larger desk is needed if you wish to have 2 or more monitors but like most desks it's best to declutter the worksurface to give a fresh efficient look. Typical sizes that we sell are w1600xd800mm, w1800xd800mm, w2000xd900mm, w2000xd1000mm, w2200xd1100mm, w2400xd1100mm but we will make to any size that you need. Bespoke Sizes are no problem. An important consideration of size is the access into the building and the room itself. Will a large top fit in the lift or up the staircase. As a guide, a typical wall partition plasterboard sheet is 2400x1200mm and most offices will have had these delivered to site at some point, however these may have been hoisted through windows and this access route may not be viable now. We can help with ensuring the optimum size is ordered.
Tip: Don't be afraid to get the masking tape out and physically mark out your ideal space.
---
2. What shape of glass desktop do you want?
This is largely a personal choice for each user but can be related to the room shape or the nature of the work that will be undertaken. A traditional rectangle shaped top is very easy to blend with usual office designs, but an oval or square shape can be appreciated and sometimes double as a meeting table when needed. Again, the shape can be driven by the size of the room. We have 50+ years of experience on advising clients on the best options so just ask us for assistance on this. Some more unusual shapes are triangular (plectrum)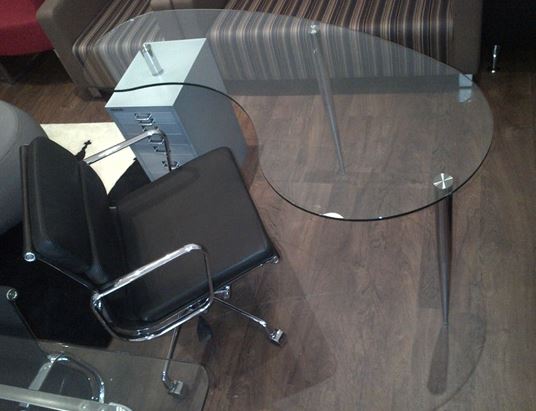 We can provide a range of shapes including kidney shaped (pictured here).
---
3. What is your budget?
Glass is a premium cost material, and you should decide on a budget that you want to spend on your desk to check viability. We have a range of solutions and since we manufacture in the UK, have control over our costs to give a very competitive solution for glass office furniture. The larger the desk the more the cost but the choice of leg frame can make a big difference on prices. An all-glass desk tends to be a higher cost than glass top desks.
What colour glass desk do you want?
Standard glass is clear, but it can be made in any choice of colour at an uplift in cost.
The most popular colours are white, frosted, or black. Importantly if white is required it will have a very slight peppermint green hue. This is caused by a natural effect of iron content in the glass (if you look at a clear piece of glass from the edge it looks green even though it appears clear from the face; when white interacts with this phenomenon it gives the slight tinge of green hue, it's very subtle). If a crisp, clean white if needed (we have done these for high class marketing suites at house or office sales environments) then we can use a low-iron glass that gives a pure white. Low-iron glass is a higher cost version and can add up to 30% to the final desk cost.

---
What Glass Desk thickness is needed?
Normally we make glass tops in a 10mm clear glass, but other thicknesses are available. A thicker glass can look really substantial but the weight of the glass will increase dramatically. A typical glass top of w2000xd900mm at 10mm thickness will weigh approximately 45Kg. The same size top in 12mm thickness would weigh approx. 54Kg.
Is glass a safe material to use as a desk?
Yes, our glass is toughened glass that has been specifically made to increase strength and in the unlikely event that the glass breaks, it is designed to crumble into cubed, blunt edged fragments that prevent injury. Of course, even toughened glass isn't invincible and it will break if abused.
Wire Management for Glass Desks
Do you need port hole cut-outs in the desktop? If you do, these need to be specified before the glass is produced as once the toughening process has been completed (during glass manufacture) then the glass cannot be cut or drilled.
Do desks come with storage?
Under desk storage drawers are an additional purchase, but these are not made in glass. We recommend complementary metal or wooden drawer units that are mobile and can be wheeled underneath the glass desktop.
---
All glass desks are generally a higher cost solution as they must be engineered in a specific way to give the necessary resilience to the structure. They can look stunning if manufactured by a company with specific experience. Often these are made to order to achieve specific guidelines of design.
Resilient yet stylish circular glass top desks are a favourite for offices and meetings rooms.
**We currently don't feature these on the website – please email us directly if you'd like a quote**
Glass Top Desks is the largest selection of choices for glass desks and gives greater range and flexibility for different budgets. The glass top is supported on a large choice of leg frames made usually in metal but sometimes in wood or diverse substances like rubber, resin, or rock. In addition, floor-standing drawer units can be used to support one end of the glass top and these can offer a good choice with integrated storage.
If the above guide has prompted some further questions about office glass furniture, please drop us an email and one of our experts will be in touch with you.
---
2021 update: We are still updating our clients office with glass covid screens (view here on LinkedIn, a case study we completed for a Cambridgeshire based Charity).